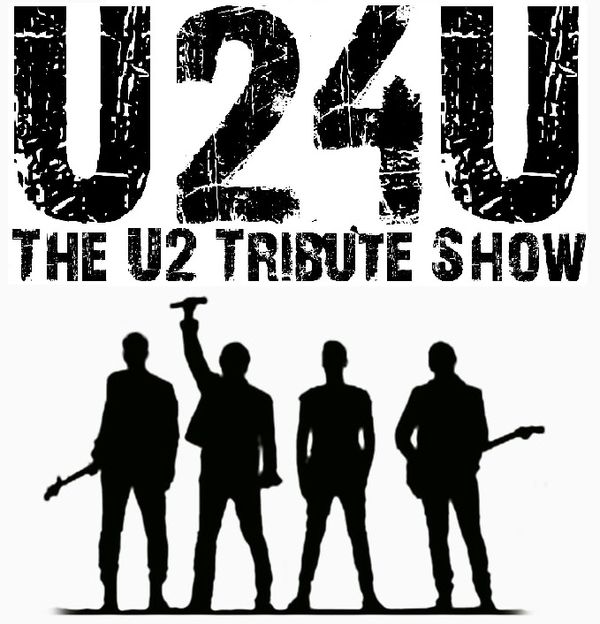 U24U is the premier U2 tribute band. They not only have an uncanny resemblance to the real Irish rockers, but are consummate musicians who bring out the soul, heart, and passion of U2's songs.

U24U covers all periods of U2's top hits that you want to hear. A must see for U2 fans, their performances are filled with the excitement of a real U2 concert. From the sound-alike vocals to the musical precision, this show is the leading U2 act besides hiring U2 themselves.

So get on your boots, come out, sing along, and feel the power of one of the greatest bands of our time!
Laurence McKenna - Lead Vocals, guitar (Bono)
Derek Bond - Bass Guitar (Adam Clayton)
Mark Rogers - Drums (Larry Mullen)
Don Ruzek - Lead Guitar, Backup vocals (The Edge)
SONG LIST
I WILL FOLLOW
OUT OF CONTROL
THE ELECTRIC CO.
GLORIA
OCTOBER
SUNDAY BLOODY SUNDAY
NEW YEARS DAY
40
PARTY GIRL
A SORT OF HOMECOMING
PRIDE (IN THE NAME OF LOVE)
THE UNFORGETTABLE FIRE
BAD
MLK
THE THREE SUNRISES
WHERE THE STREETS HAVE NO NAME
I STILL HAVEN'T FOUND WHAT IM LOOKING FOR
WITH OR WITHOUT YOU
BULLET THE BLUE SKY
RUNNING TO STAND STILL
RED HILL MINING TOWN
IN GOD'S COUNTRY
ONE TREE HILL
HELTER SKELTER
DESIRE
VAN DIEMEN'S LAND
ALL ALONG THE WATCHTOWER
ANGEL OF HARLEM
ALL I WANT IS YOU
ZOO STATION
EVEN BETTER THAN THE REAL THING
ONE
UNTIL THE END OF THE WORLD
WHO'S GONNA RIDE YOUR WILD HORSES
THE FLY
MYSTERIOUS WAYS
LEMON
STAY
BEAUTIFUL DAY
ELEVATION
STUCK IN A MOMENT
VERTIGO
CITY OF BLINDING LIGHTS
MAGNIFICENT
U24U have played at the following venues:
BRIGHT BOX MUSIC VENUE - Winchester, VA.
TALLY HO THEATER - Leesburg, VA.
TARARA WINERY - Leesburg, VA.
For Bookings:
Laurence McKenna
shagmail@aol.com
540 664-7776